Some or all Database Reports last updated: 20 May 2021
Genealogy Connections
This site not only has my paternal (Hammons and Robbins) lineages, but also my maternal (Blackburn and Couch) connections. The various families can be researched in the Family Section.
John Hamond
John Hamond (ca. 1500-1546) is most distant known ancestor of this lineage.
The most distant known Hamond* ancestor of this genetic line is John & Katherine Hamond of Scarning, Norfolk, England. John was probably born between 1490 and 1500. His exact birth date and location is unknown though he is often shown as being born in Scarning.
* HAMON, HAMOND, HAMONS, HAMMON, HAMMOND, HAMMONDS, HAMMONS
Ambrose Hammon (1647-1694)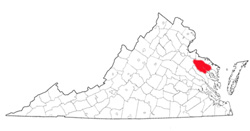 ©Library of Virginia
800 East Broad Street
Richmond, Virginia 23219-8000
Ambrose settled in Old Rappahannock County, Virginia upon his arrival in about 1666. Old Rappahannock County was formed from Lancaster County in 1656 and became extinct in 1692 when it was divided into Essex and Richmond Counties.
Hammon Family Immigrant
Ambrose Hammon was probably born in 1647 or possibly 1646 (baptism: 28 Feb 1647) in St.James Parish in Clerkenwell, England. Clerkenwell is now a part of London proper. He is typically known as our family immigrant, despite the fact that his father also came to America. His great grand aunt, Elizabeth Hamond, actually was the first of the family to come to America in 1637 with her husband Henry Hart. They settled in Jamestown, Virginia.
Contact Me:
Rodney R. Hammons
433 N Main Street
Rushville, IN 46173

1.337.499.8674