My Hammons Genealogy
and other blood-related branches
Rushville, IN, USA
rrhammons@rrhammons.com

About Us Ham(m)on(d)(s)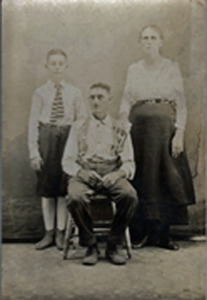 My genealogical journey began in 2006 when someone I don't even know sent me information concerning a small part of my Hammons ancestry. The addiction began! Thanks to many others before me, especially Stratton Owen Hammon and his son, Neal Owen Hammon, we have traced our most distant known ancestor to John Hamond (ca. 1500-1546) in Scarning, Norfolk, England. Sometime in the early 1600's (1605-1620) some of the family moved to London; in particular the Clerkenwell area. From here our immigrant ancestor, Ambrose Hammon (1647-1694) came to America prior to March 26, 1666. His name, along with 126 others, are listed in the Cavaliers and Pioneers, Abstracts of Virginia Land Patents and Grants, page 548. I have been told by Colonia Virginia researchers that this date represents when the land patent was granted and not the actual arrival date of the passengers. They also stated it could have actually taken as much as a year or two before the grant was given and recorded, meaning Ambrose could have arrived as early as 1664-1665.
From Old Rappahannock, Virginia our ancestors moved into the Wilkes County, North Carolina area in the mid-1700's and it was from this location that we began to spread out. My particular branch moved into Eastern Kentucky in the later stages of the Revolutionary War while some moved south into South Carolina and Georgia. Migrations included movements into Tennessee, Arkansas, and Texas while others included West Virginia, Ohio, and Indiana.
While there is no absolute proof, the family appears to be Norman in origin. DNA from many of us show Northwestern Europe links, which includes Normandy. All of our individual DNA is a mixture of our parents, it's the male DNA that can better reveal our ancient homesteads. This particular Ham(m)on(d)(s) family DNA belongs to the haplogroup J2b2. Our closest haplogroup "cousin" is haplogroup "I", which has a high frequency among Scandinavians, which would include Normans of Viking descent.
---
Contact Me:
Rodney R. Hammons
433 N Main Street
Rushville, IN 46173

1.337.499.8674